A dental bridge is a row of artificial teeth, often referred to as pontics, that stand-in for missing teeth. They restore your smile and give you same the healthy bite and function as natural teeth.
We design our bridges out of high-quality dental materials that reflect light like natural tooth enamel. They are carefully color-matched to your remaining teeth so the crowns and pontics blend in seamlessly. To meet the diverse needs of our patients, Pruitt & Earp Dentistry offers two types of dental bridges.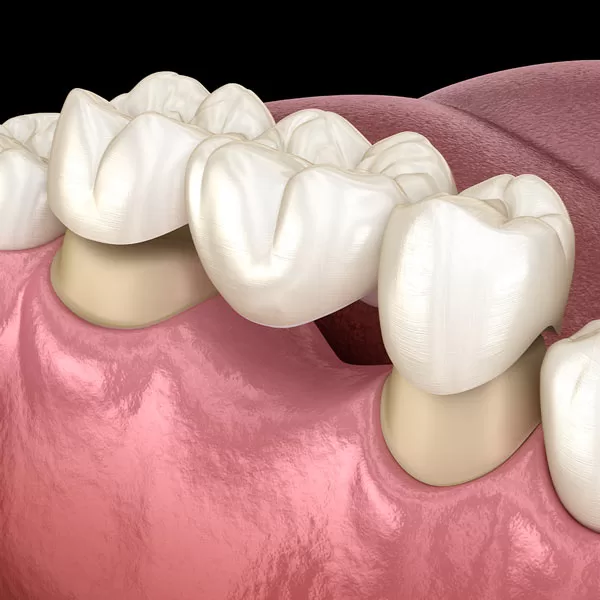 Traditional Bridge
A traditional bridge is supported by the natural teeth, which are shaped to accept dental crowns, located at each end of the bridge. Traditional bridges are a time-proven technique for replacing missing teeth and, with proper care, can last five to 15 years or longer. If you already have a cantilever bridge, now is a good time to consider upgrading to a traditional bridge.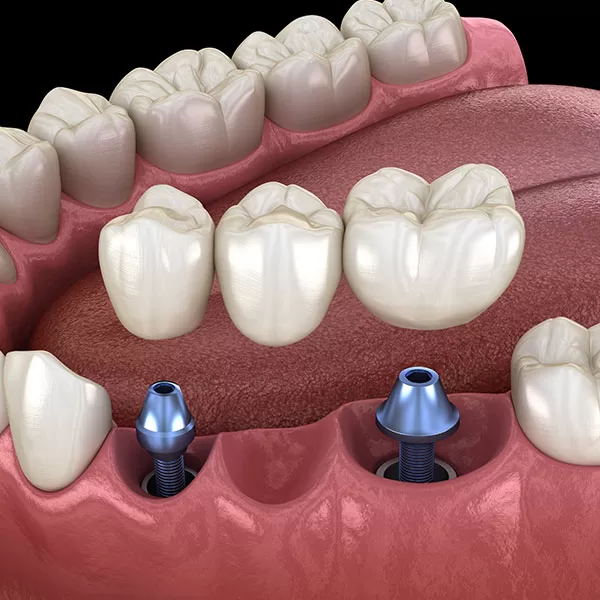 Implant-Supported Bridge
Instead of being supported by natural teeth, this pontic is held in place by dental implants. Implants are small posts, typically titanium, that are surgically inserted into the jaw. The beauty of dental implant-supported restorations is that they replace the missing tooth and roots. This is key for continued health since the implants stimulate restorative jawbone growth.
HOW DOES AN IMPLANT-SUPPORTED DENTAL BRIDGE WORK?
HOW DO I CHOOSE THE RIGHT DENTAL BRIDGE?
REQUEST A CONSULTATION
Time to replace your old cantilever bridge? Deciding which type of dental bridge is ideal for your situation requires a consultation. While dental implants offer the most tooth-like restoration, patients need to be examined to determine if they have the right bone density and if they are in good general health.
The first step to determine what is right for you is requesting a consultation. Pruitt & Earp Dentistry has convenient locations in both Greenville and Plymouth. We also offer late and weekend appointments so you can see us when it's convenient for you.
WHY REPLACE A MISSING TOOTH?
We know it can be tempting to just live with a missing tooth, especially if it's tucked away in the back of your mouth. But it's not a good idea because of:

Tooth Movement
Teeth support each other and keep themselves in line. But when one goes missing, nearby teeth can slowly slide into the gap at an unnatural angle. This will alter your bite, and that can introduce complications, such as TMJ. Super-Eruption
It's not only the neighbor teeth that can be affected when a tooth is lost. Without the tooth in place to stop it, its partner tooth in the opposing arch may "erupt," exposing the tooth's root and making it vulnerable to root cavities, which are difficult to treat. Advanced Wear
When a missing tooth allows other teeth to fall out of alignment, your bite is changed. Instead of meeting harmoniously, your teeth may clash at new contact points. In turn, you may experience unexpected areas of wear.
Treatment Process
HOW ARE TRADITIONAL DENTAL BRIDGES PLACED?
Consultation
One of the dentists at Pruitt & Earp Dentistry will examine your mouth to assess its readiness for a dental bridge. If you need any other treatments, our dentists are well trained to offer comprehensive dental care without needing to send you to a specialist.
Preparing the Teeth
Our dentists will prepare the teeth on either side of the missing tooth. These teeth will eventually be capped by Dental Crowns attached to the dental bridge. The crowns ensure the bridge is held securely in place.
Taking Impressions
After your natural teeth are shaped, the dentist will take a digital impression of the treatment area. This highly detailed 3-D image is the starting point to create the dental bridge and helps ensure it fits comfortably.
Creating the Bridge
In many cases, we can design and mill the dental bridge immediately by uploading the digital impression to our sophisticated CEREC software. In special cases, we may need to send your restoration to an outside lab we have chosen for their outstanding fabrication skills. If this is required, we will provide a temporary bridge to wear until your permanent one is ready.
Placing the Bridge
Once your dental bridge is ready, the dentist will test it in your mouth to judge how well it fits and matches your other teeth. If necessary, he will make minor adjustments so that the bridge is comfortable. Once you and the dentist are pleased with the results, he will cement the crowns in place.
If you are missing many teeth, traditional dentures or those anchored by dental implants may be a better choice for you.
Expertise
The dentists at Pruitt & Earp Dentistry in Greenville and Plymouth, NC, are expertly trained, particularly in the highly technical field of implant dentistry. Our dentists belong to the International Congress of Oral Implantologists and have a fellowship with this prestigious organization.
Same-Day Dental Bridges
Our state-of-the-art practice uses CEREC® technology and iTero® intraoral scanners. These sophisticated instruments allow us to design, mill, and place your dental bridge in one appointment so you can avoid the hassles of wearing a temporary restoration.
Flexible Financing
You shouldn't have to wait to restore missing teeth. We are in-network for most dental insurances, but if you don't have insurance or insurance leaves you with out-of-pocket costs, we offer flexible financing through CareCredit®.
Sedation Options
If visiting the dentist makes you break out in a sweat, we can help. We offer both nitrous oxide and oral sedation so you can put your anxieties to rest. Sedation also helps if you have physical limitations that make sitting for long periods difficult.
WHY CHOOSE OUR DENTISTRY OFFICE?
Experience Exceptional Care and Transformative Results
One-Stop Shop
Our dentistry offices offer a variety of general, restorative, and cosmetic procedures to meet our patient's needs. We rarely have to refer patients out because of our dentists' breadth of knowledge.
Competitive Pricing
Our office offers top quality dental services at competitive prices. We also accept most insurance providers and monthly financing for patients who don't have insurance or who's procedure is not covered.
Knowledgeable Staff
Having three dentists on our team means having a staff knowledgeable on various specialties. All of our dentists are highly trained and take continuing education courses to stay up-to-date on the latest dental trends.
WHAT OUR CUSTOMERS HAVE TO SAY
See What Our Satisfied Patients Are Saying About Us
Dr. Pruitt is the best! I called this morning for a fractured tooth and he got me in the same day and completely fixed my problem without making me come back another day. So convenient! His professionalism, excellent patient-rapport, and compassion made "going to the dentist" for a problem a very pleasant experience. He will have my family's business, for sure.
I found Dr, Earps staff, friendly, courteousness and efficient. The office was immaculate and their COVID precautions exemplary and should be adapted by other medical practices. All in all I would highly recommend the entire practice and staff.
Always a great experience from the moment you walk in the door. The front office staff are very welcoming. We love our dental hygienists. Each of the dentists are great too. They are gentle, yet very thorough. They make suggestions of work you need jowls and possible work needed in the future, but they are never pushy. This is.the best dental office I've ever been to!
Matthew S
11. July, 2023.
Professionally trained & competent staff. Well organized & with great attitudes. Latest technology & efficiently handled my severe dental issues with grace & ease. Dr. Ryan Pruitt is certainly one of the best, if not the best that I've had to help me with procedures & options and then to triage my appointments for the best way through the maze of issues facing my dental needs. Hat's off to Pruitt Denistry-come out & experience the difference.
Great Vista at Pruitt & Earp Dentistry. Staff is great Dr. Wagner awsome at her job. Made sure everything was perfect before it was finished. Her assistant Karen did great. Kelly was good with with helping. And my hygienist even came over to say hey. Love Emily as hygienist she cares as well.
Brianna M
11. July, 2023.
I came here recently to get a consultation to see what will be needed to restore my smile. The whole staff was super friendly and very welcoming and professional. I will definitely be coming back and would recommend anyone to visit this place in the Greenville area!
I have spent lots of time in the dental chair since I was a kid, and Pruitt & Earp Dentistry has by far been the best care I have ever experienced. Dr. Kline is a Rockstar! Run, don't walk, to Pruitt & Earp Dentistry for all your dental health needs!
My hygienist was very personable and very informative. My cleaning was thorough and painless. I really appreciate Pruitt Pruitt & Earp Dentistry!
Jennifer D
11. July, 2023.
I had a root canal today and Dr. Earp and his team did an amazing job! Dr. Earp was patient and gentle. After all the horrible stories I have heard about a root canal, it was really easy peasy!
My visit today was better than I expected!! I had a tooth that needed to be extended!!! .... No pain at all everyone was so friendly. I had a very good experience. I most definitely will be returning for our future dental needs as well as my family!!
First off, nobody loves going to the dentist. It's one of those things that just doesn't bring happiness. However, the staff is incredibly kind and Mrs T is the absolute best dental hygienist! She makes me want come back just to be in her presence. She impacts my day in such an incredible way and I am so thankful I have her!
I always have a great experience at Pruitt & Earp Dentistry. This was my son's first dentist appointment and he was understandably nervous beforehand, however the atmosphere and professionalism of the staff made all the difference. I always appreciate the service provided by PruittEarpDentistry!
Been going to Pruitt & Earp Dentistry for 5 years. I've always had excellent service and care. I met Dr Pruitt today and didn't even know that he gave me a needle, very gentle procedure. The office staff and especially the dental assistants are amazing. They are personal, warm and welcoming. I would highly recommend this dentistry to anyone.
Everyone is always the sweetest! From the desk staff, to hygienists to the dentist! Always a good experience! My daughter and I always go at the same time for our cleanings and I know she's in good hands. When you have a child that says she loves going to the dentist... well they must be doing something right!
Emma was so nice and informative while doing my cleaning today. She really cares about her work and educates her patients esp. when it comes to gum disease. I'm looking forward to my next visit in December.
The staff and dentists are always professional. The office is always clean. I feel very comfortable with them taking care of my teeth. Thank you. You guys rock!!
JC is the best dentist hygienist I had X-ray technician was very helpful had my crown completed also with my cleaning! Awesome staff! Dr. Earp is always great.
Tonyetta B
11. July, 2023.
I had fillings done today and the staff were really kind and professional. The dentist explained everything that he was doing and made me feel comfortable. I would, definitely, recommend Pruitt & Earp Dentistry.
They were so so nice the nurse was phenomenal! The dentist did hurt me at all. He talked with me the whole time he was working on my tooth!!!! They both made me feel so comfortable because the dentist is not my favorite, but those two made me feel like they really cared about me and that meant a lot to me!!!! I would tell all my friends that's the place you want to go, if you have any problems with your teeth!!!!! Thank you
I have been a patient of Dr. Earp's since the beginning on Charles Street. What a wonderful Dentist. Professional and really nice, down to earth. I recommend him to anyone who is looking for a Dentist, who will get the job done and correctly. His staff is amazing, super friendly and willing to answer any question I have. Karen is so friendly, she's been working on me with Dr. Earp since the beginning close to 20 years soon. The best people who always make me feel and look good. As my many issues with my teeth, I feel more confident when I smile. I have lots of work to go, I am confident in Dr. Earp and his staff.
Kaitlyn did a wonderful job today cleaning my teeth! She always makes me feel comfortable and cared for! The entire staff is friendly and welcoming
COMPLETE LIST OF SERVICES
Experience Complete Dental Care with Us